Our Story
Three Hearts Farm was established in 2010 with one movable hoophouse and 20 acres.
In the spring of 2015 Three Hearts Farm was sold to Betsy and David Hicks, who were determined to build on the farm's fine reputation of providing fresh, high-quality, certified-organic vegetables to the residents, restaurants and grocers of Gallatin County.
It was the perfect fit for David and Betsy, and their larger, multi-generation Hicks family who all share an enthusiasm and joy for truly nutritious "real" food.
This is reinforced every evening when we cook what we have grown and taste the difference!
Our Produce Sales (2016)
Tomatoes

21%

Kale & Seasonal Greens

18%

Squashes (Summer & Winter)

11%

Cucumbers

8%

Beets & Carrots

13%

Swiss Chard

6%

Onions

5%

Herbs

4%

Other Veggies*

18%
*Peas, broccoli, brussels, eggplant, kohlrabi, turnips and more!
If you pop over to a work morning you'll find Sarah, Brad and the rest of the crew busy in the fields planting, weeding and harvesting your vegetables, or in the packhouse sorting and washing the morning's harvest.
You can obtain our produce DIRECT FROM THE FARM by joining our Farmshare CSA program.  Enjoy a box of freshly picked, seasonal vegetables each week, as well as the opportunity to become a member of our farm.  We have special events for our CSA members and love to have them visit!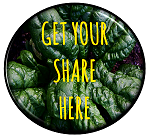 Social Media
Find us on Facebook
Follow us on Instagram: @3HeartsFarmMT
Want freshly harvested veggies?
We're your neighbor!
2111 Love Lane
Bozeman, MT  59718
406.404.6639